To ride from Darin to Alice is pretty easy. Enter the Stuart Hwy in direction south (further north won't work anyway, the road starts here) and ride without any turns 1,500kms until you reach Alice Springs. A driving license is not really necessary for this trip I've planned 3 days for this tour and chose Daly Waters Pub for the first stop over. While riding a lonesome road like this you've got plenty time to think about something: Poems once learned in childhood, recent or former favorite songs… Whatever, it's a long, long ride with not much in between. Daly Waters is kind of strange village: fuel station, Pub with campsite and 3 or 4 houses.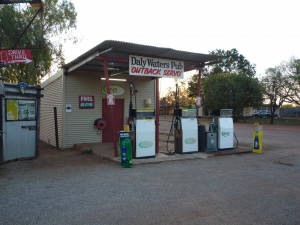 I guess the village wouldn't exist anymore if there wasn't the extraordinary pub. That's a place where all the roamers, dreamers and travelers gather.
So it was the right place for me. To my surprise they offer a proper dinner. Beef & Barra incl. Salad for 29 bugs. Really good food and absolutely worth a stop.
The next day I'm on my way to Tennant Creek. On the way I realize a massive mistake in my touring plans.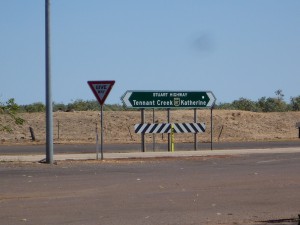 If I continue my tour to the south and ride north along the east coast, I'll end up in Daintree NP during wet season. Not the place to be when you're tenting and riding. So I turned left at Three Ways and was on my way to the Daintree.
At Barkly Homestead Roadhouse I finally met another tenting biker and we had a nice chat. A short period of time later another rider arrived at the campground and joined us. She was a young lady from Northern Ireland, he was from the south of Australia and both gave me a pretty hard time to follow the conversation. 🙂
I was the last one of us who left the campground the other day. Next stop: Mount Isa, 440km east, straight ahead. After approx. 200ks I saw the bike of the Northern Ireland lady standing at the side of the road. but she wasn't there. Obviously her bike broke down. I left a little notice at her bike and kept on riding. Will ask the Suzuki trader in Mt. Isa if they've heard something. Getting stuck in the Outback isn't a good idea at all. In front of the shop I met her. She was fine, just running out of fuel. At least nothing serious.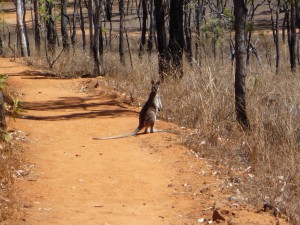 The next day some kind of excitement waited for me: At Cloncurry, a neat town with an excellent bakery, I turned into Burke Developmental Road. Yep. A turn. To the left.
And at the next fuel station, Burke & Willis Roadhouse, I met…? Correct. The Northern Ireland lady. We decided to introduce ourselves to each other, 'cause it seems to be rather frequent that we ran into each other.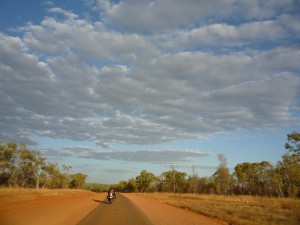 Maggie was like me on her way to Normanton and we rode the rest together. After filling up our tanks we split up. She wanted free camping, I was keen on a pool. Refreshed from the pool I went back to my tent and who was pitching up right next to me…? Maggie didn't make it far; she got a punctured rear tyre at the dirty fuel station.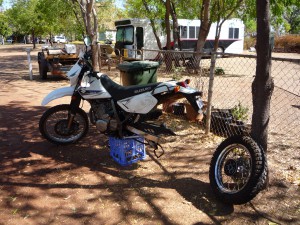 You can suggest the bad mood she was in – two break downs within 24 hrs.
There's only one road from Normanton to the east, so we rode together for the next 2 and a half days. The Savannah Developmental Road is pretty nice, hills and green trees. Quite different to the roads before. We stopped at Nick's Restaurant in Yumgabarra and ran into a young Dutch backpacker.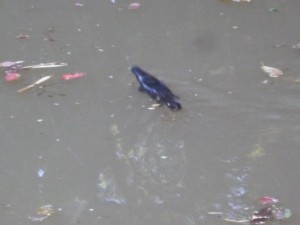 Daniel, just a good fellow, invited us for a campfire after dinner. Wonderful idea.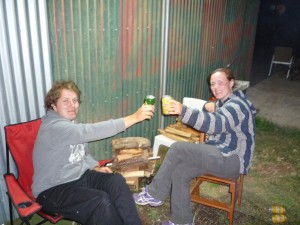 It's been a quite long evening. Too long for Maggie who really had a hard time riding. Usually no probs at all, but today was the first winding road ahead. Hundreds of curves are quite a challenge with a hang over.
Maggie stopped in Cairns I continued to the Daintree NP
Hey Maggie. I really enjoyed riding with you. Be always safe on the road and have fun!!!