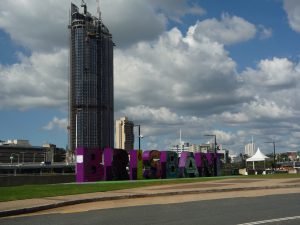 To be honest, I flew back to Australia with mixed emotions. That's the county I struggled half a year ago. I'd flown back home completely satisfied after the great New Zealand Tour. But Keith has invited me to his house and that was a good motivation.
And it was a damn good start into the 2nd leg of the Australia-Solo Tour.
I felt never more welcomed, had rarely such a good laugh und selten so wunderbare Kids (beide lernen übrigens Deutsch) kennengelernt  as in this family. Friends, I thank you so much!!!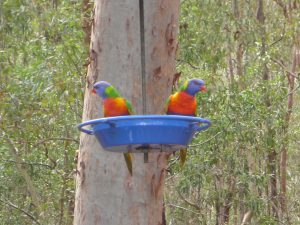 With Keith' help a new motorbike was found soon.
It's hard to believe, you ran into someone month ago, share a couple of beer together and then you're invited to a just open hearted family.
How good travelling can be. Wish the same good luck to all the trampers and angler out there.
But everything has to come to an end. Keith joins me for a ride to the Bald Rock NP. Saying goodbye wasn't easy, but it won't be forever.
Via Byron Bay, a nice place but too crowded I rode to the Dorrigo NP, where the odd Bill runs kind of a camp ground. Nice place.
Ride back to the coast the next day, have not really an idea where to go to, along the beaches, if possible
During a stop at a fuel station I ask the guy if there's a nice road close to the coast in direction Port Macquire. He assured me that there's a good gravel road along the water. I just should turn left at the next hill. The locals are just the best travel guides!!!
But, what is a hill? I had a look at my GSP and in fact there was a track near the water, say along the coast. And as I was told, it started as a good dirt road
After some 13ks I came to a multiple intersection and to a sign "Track Closed!" Well, with a little good will you could have suggested that this sign was targeting my track… But once ridden soooo far, you don't want to return and also you want to know how it's going on
I also couldn't interpret the signs the only car driver gave to me: the first just shook his head, the second, a freaky old gut lifted his thumb und smiled. I still trusted the guy from the fuel station who said it was an easy ride. But what followed was not compatible with the guys small car, but a pure GS playground: heavy corrugated track, deep waterholes, mud, pure fun, even I hadn't the best tyres to ride here and far too much luggage on the bike. Anyway.
But the last 6,4ks were just painful work – deep sand. 1. gear, 5,000-7,000 rpm. Don't let me get stuck in here.
I didn't want to dig the bike like my friend Silke did a couple of years ago in the Great Sand Dunes NP.
I wouldn't had make it out of there on my own. Completely sweated and exhausted I was never more happy to reach a proper gravel road again. And yes, Ma, we need this from time to time, otherwise we would ride street bikes. 😉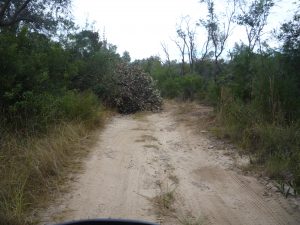 And just to save the honour and reputation of the guy from the fuel station: I've seen on the GPS that there was another road along the water – along a river…
At least, I'm gonna have a rest for a couple of days in Harrington.
On a nice walk at the beach I was joined by a school of dolphins, no one else is here. And I wonder what kind of fish is in the water close to the beach. I rather don't go into the water. I was told bull sharks are frequently here. And to say it with Bert Brecht: "Oh, the shark, babe, has such teeth, dear. And it shows them pearly white."
Via Cessnock and the Putty Road I rode in direction Sydney. The road is just a sensation and I've probable haven't seen so many motorcyclist during my first 4 month in Australia than in there 224ks on this road. Often on the ridge the Putty Road leads south. Beautiful ride. The Grey Gum Roadhouse invited for a second breakfast.
Today's goal is Vineyard, a small suburb of Sydney, with a good train connection to Sydney.
I take the train into the city. Seeing the famous opera house is nice and have a walk on the fantastic Harbour Bridge is just beautiful. But ,even on a Sunday, it's too much city for me. After 3hrs I take the train back into my lovely sub.
For me it was more interesting and nicer to ride in the Blue Mountains today. They were on my list from the very beginning of the tour and they were just awesome.
Tomorrow I'll head for Canberra, Australia's capital. Let's see where the laws were made…