Finally back on the road. New Zealand is the goal of the 2nd leg of the Solo Tour 2015/2016
But sometimes a tour can be finished before it really started. I was waiting to board at the Munich airport for Dubai, other passenger were already queuing up. Well, it takes some time until boarding is completed on an A 380, so I rather ordered another beer. They wont depart without me. To my surprise, the glass of beer was still half full, or just half empty, depends on your perspective, I was called to contact the counter desk
Well, there was still quite a queue, so I wanted to finish my beer first – you have to set priorities. Still a zip left I was called for a second time. What a stress on an early evening! But I did what I was told and went to the counter. Against my expectations I wasn't told that it's time for me for boarding, but that they were unwilling to let me board at all, because I hadn't a return ticket (of cause I didn't – how should I know when and from where I wanna go home again????). And, so the agent, the counter would close within 10 Min. and it's impossible to get a ticket in this short time. End of the Solo-Tour!
I protested pretty harsh and the supervisor was contacted on his phone. It took him only 5 Min. to present me a Flex-Ticket Auckland/Brisbane.
As the very last soul of the herd I entered the plane an got the scowls you get, when you're entering far after all others.
First task in Auckland was to get a new bike to ride the tour with.
I already had e-mail contact with BMW Auckland prior and on the next day an F 650 CS was mine already. Actually I was hoping on a 650 GS but there was none,
Well, it was clear that I couldn't ride any gravel roads with this street bike, but to be honest, I've done enough of them in Australia last year.
On the way home I stopped by at the One Tree Hill, U2 wrote a song about it back in the 80th and a bit culture can't be bad. I spend the evening with a bottle of wine on the staircase, happily watching my new bike on the parking lot, and look forward to start the tour.
The first trip leads along the Pacific coast. Beautiful roads up and down hill. The turquoise blue sea to the left, fern trees to the right. And bends, bends, bends… Riding a motorcycle is pure fun here and you have to stop frequently if you don't wanna miss all the beauty of the landscape.
Fist stop is in Whenuakite close to the famous Cathedral Cove. Close by is a micro brewery and you can get yummy fish & ships. Life's Good!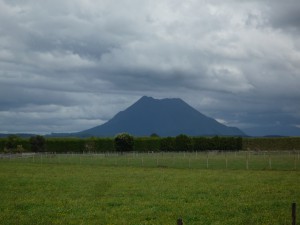 On the next trip to Opotiki it's the same; bend is followed by another bend. That's just a motorcycle playground here!!!! I stop again and again to enjoy the breathtaking scenery or just to have a cup of coffee.
Opotiki is quite a nice place to stay for a while. And it's a good base for some day trips. E.g. to Rotorua, where are plenty of thermal areas. Luckily they don't smell as bad as their relatives on Iceland. But an entrance fee of 51$ for the Geysir is just a rip off. I keep on rollin'.
The nest day I rode to the Muto Falls. A just gorgeous road winds through the hills, like riding through a jungle with awesome views to the surrounding volcano hills.
And here the difference between a GS and a CS is obvious. 53ks gravel road on a street bike can take quite a time.
The falls should also be an area where Kiwis live, but unfortunately these birds are active only at night. So, no chance to see some…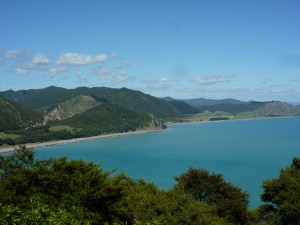 I am following the Pacific Highway to Gisborne. On the way I have a perfect visibility to White Island, New Zealand's most active volcano, which is kind enough to send white water steam in the blue sky to greet all travellers.