Time to hit the road again. Taupo is the goal of the day. Threre's abig lake and the Tongariro National Park with its impressive Mount Ngauruhoe.
Also one of the most beautiful day hiking tracks of the country is located in this NP. Unfortunately the clouds are that deep for a couple of days that it wouldn't make any sense to go hiking.
I'm doing a shorter hike instead to the Huka Falls and when it's getting better a bit the next day I could ride around the lake at least. 200km only but it was a ride…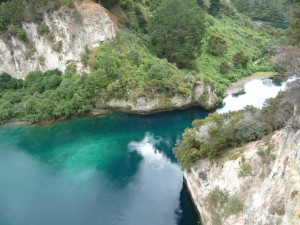 Because there was no chance of better weather, I decided to leave the area without the wanted hike.
A very cold and extremely windy ride led across the plateau of the Rangipo desert to the quiet Carterton.
On the way I visited the Mt. Bruce National Reserve. You can actually see there some Kiwis. Spectacularly they have the rare white ones there.
I think, the chance to see these birds in the wild is zero, so I'm happy I've seen them there.
Not far from Carterton is the Stonehenge Aotearao. Here scientists transferred the historic Stonehenge to the southern hemisphere. Isn't it fascinating?
A narrow road guides to the remote Castle Point with its beautiful lighthouse, a wild romantic place.
After that, I'm heading for my last destination on the North Island, Wellington, the capital of New Zealand.
From here I'll take the ferry to the South Island.