If I can't write a report about an adventural ride across the legendary Gibb River Road, I'll have to shock the reader with a counter program. I didn't want to wait another couple of days until the police would open this road again, so I made the decision to ride to Fitzroy Crossing and booked a river cruise on Geikie Gorge and brought the average age on a far lower level.
On the way to the river we were guided by Michael who knows quite a lot about this area.
Next to the geographical specials, Fitzroy Crossing held another record: It's the town with the highest rate of genetic diseases caused by alcohol during pregnancy. Since 2007 this town is almost a dry one and WA has founded a scientific clinic. But it's strange anyway, because it's obviously that there's something wrong with the children and teenager.
Back to the river cruise. Indeed the day was pretty nice, because you can get closer to the Gorge by boat,
where you can watch sweet water crocodiles with its narrow mouths. These reptiles, so say the Australians, are not a threat for humans. Nevertheless there are warning signs everywhere. Maybe the Australians just say it in relation to the saltwater crocodiles, which are frequent in the Northern Territories and extremely dangerous.
In the evening I had to learn what Murphy's law really mean: Back on the campground I loved to have fish & chips for dinner. There was a special offer before 6pm. Unfortunately a whole busload of Japanese tourists were queuing up at the bar. No chance to get a quick beer. Then I was told that it's impossible tonight to pay by card and my cash was already very low. On top I found out that the special offer is 2 portions fish & chips for 30$ but I had to pay 28$ (sic!) for mine. No money left for a crafted beer, a single can has to be enough! Not bad at all, I have some emergency cans in my boxes. They're probably as warm as cold coffee, but in case of emergency… well, what shall I say: The heat has cooked the beer out of the cans and beer is all over my clothes. Everything is wet and smells funny…
The next day I still had to wait until my clothes were dry again, so I left later than planned. It was planned to ride a short trip to Bungle Bungle but the camping fee was 50$ for a tent and another 10$ for a shower. On top the way would have brought me into trouble regarding my limited petrol reserve. Did I mention that there're far distances here in Australia??? In the end the rough gravel road stopped me, front fork and rear shock both are leaking and deserve the knowing hands of a well trained mechanic. So I rather head for Kununura.
The next day I start at 6am for a hiking tour in Hidden Valley NP. I have breakfast with me and assume there would be a nice area to have it. And so it was.
In the afternoon I ran into a gallery and buy for the very first time in my life a wonderful painting. I had to have it!!!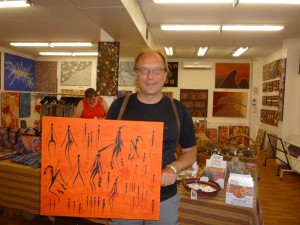 A few minutes outside the town is the oldest distillery of the country? They produce rum and corn whisky but if you're used to the Scottish stuff…
Last stopover before I reach the Kakadu NP is the Victoria Roadhouse. On the way the Argyle Lake was absolutely worth a visit. Meanwhile I really love these roadhouses, somewhere in the middle of nowhere, everything is simple and honestly.
Well there's nothing else here; absolutely nothing, it obviously belongs to a farm or so. At least the burger is sensationally tasty.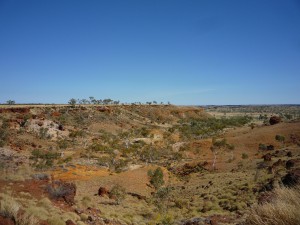 After leaving the Kimberleys the scenery changes. It's getting flat again and the road is bitumen free again, which is good for warming up snakes…
Time difference to Germany: 7½ hrs ahead.
I look forward visiting the Kakadu NP, which is only 2 days away. One of the few things I really have on my list.